Home Free Opinion of Value Examples of works by Filipino Artists Contact Us
---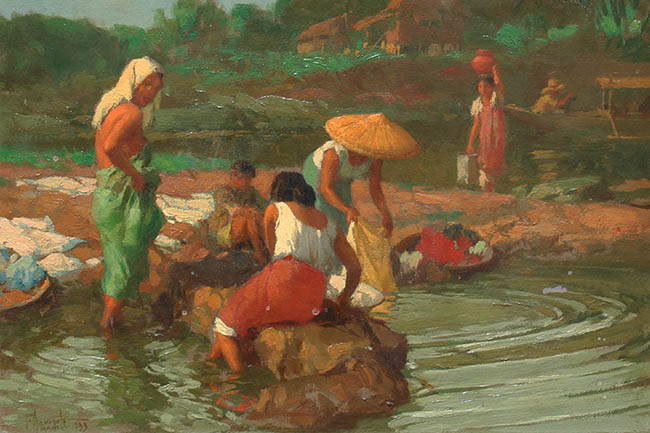 Fernando Amorsolo
"Women Washing, 1933"
SOLD
Are you interested in selling, consigning, or acquiring paintings by notable, historically important early Filipino artists? Karges Fine Art is one of the leading dealers of original works by a large number of well-known Filipino painters including Fernando Amorsolo, Jose Joya, Juan Luna, Cesar Legaspi, Anita Magsaysay-Ho, Vincente Manansala, and Fernando Zobel.

We pay top prices for paintings by this group of highly respected influential artists whose works can be valuable and highly sought-after by serious collectors. There has been an increasing demand for paintings by the leading early artists from the Philippines who superbly portrayed the beauty and quiet nature of this graceful, lovely, and gentle culture. We are eager to acquire landscapes, seascapes, and figurative works by the finest artists from this memorable period in art history. Please contact us today at (831) 625-4266 or by email to info@kargesfineart.com or click HERE now for a free opinion of the value of your artwork.
We are currently interested in acquiring works by the following artists:

Fernando Amorsolo

Lee Aguinaldo

Federico Alcuaz

Ben Cabrera

Fabian de La Rosa
Victorio Edades

Felix Resurreccion Hidalgo

Jose Joya

Ang Kiukok

Cesar Legaspi

Juan Luna

Arturo Luz

Anita Magsaysay-Ho

Vicente Manansala

Hernando Ocampo

Alfonso Ossorio

Mauro Malang Santos

Romeo Tabuena

Ronald Ventura

Fernando Zobel
Do you own a painting by one of these important Filipino artists?
Click HERE now for a free opinion of the value of your artwork.
Visit www.kargesfineart.com for additional information about Fernando Amorsolo, Fernando Zobel, and Anita Magsaysay-Ho.